Welcome to Lin's Mandarin
In our restaurant you can arrange your own menu from fresh ingredients, like different meal and vegetable. Once you made your choice, we prepare the meal in front of you. One speciality of our house is grilled meat.
So come in and enjoy all the delicious variations you can imagine.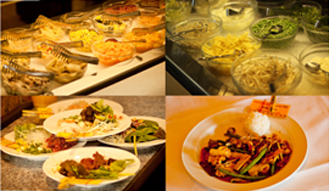 Our recommends
Monday to Friday from 5.00pm to 10.00pm on Sunday and holidays 12:00pm to 10:00pm
Buffet a la Lin´s Mandarin 14,80€ - which includes fish, meat and salad.
We have also a warm buffet, a daily soup, shrimps chips and a dessert buffet.
Help yourself on the buffet as often as you want.