Welcome to Lin's Mandarin Reopening 15.5.2020
Due to the current situation, we have adjusted our offer. We attach great importance to the safety of our guests. there is buffet again. You can still eat a la kart or order to go. Just drop by our new opening times are live cooking from Monday to Friday 5:00 p.m. - 9:30 p.m. Sat - Sun and public holidays 12:00 p.m. - 9:00 p.m. You can enjoy a new table buffet contactless from Monday to Friday from 12:30 to 15:30.
We have put together for you a buffet of selected and fresh Chinese delicacies. Look forward to a variety of Chinese food. Our cooks prepare you various Chinese specialties. At the buffet you can assemble your plate at will.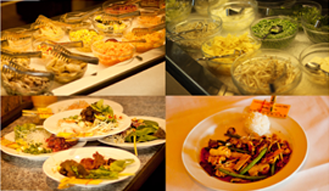 Our recommends
Monday to Friday from 5.00pm to 9.30pm on Sunday and holidays 12:00pm to 9:30pm
Buffet a la Lin´s Mandarin 15,80€ - which includes fish, meat and salad.
We have also a warm buffet, a daily soup, shrimps chips and a dessert buffet.
Help yourself on the buffet as often as you want.