Welcome to Lin's Mandarin
We have put together for you a buffet of selected and fresh Chinese delicacies. Look forward to a variety of Chinese food. Our cooks prepare you various Chinese specialties. At the buffet you can assemble your plate at will.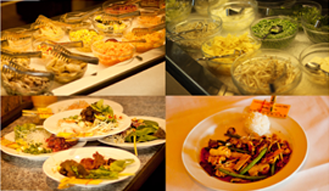 Our recommends
Monday to Friday from 5.00pm to 9.00pm on Sunday and holidays 12:00pm to 9:00pm
Buffet a la Lin´s Mandarin 19,80€ - which includes fish, meat and salad.
We have also a warm buffet, a daily soup, shrimps chips and a dessert buffet.
Help yourself on the buffet as often as you want.
(21,80€ without ordering a drink)